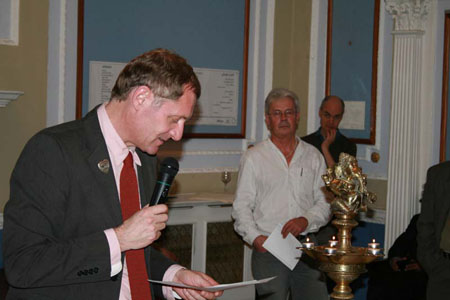 Andrew Motion reading at the Nehru Centre Inauguration.
The Poet Laureate Andrew Motion launched this web-site on April 22nd in London. The site allows people to down-load and print for themselves the 145 poem-posters we've put together so far. Future collections will also be displayed on the site as soon as they've been completed. The launch took place at the Nehru Centre, near Hyde Park Corner. The Centre was founded by the grandson of Mahatma Gandhi and is part of the work of the Indian Embassy. Its purpose is to strengthen Anglo-Indian understanding, chiefly through the arts.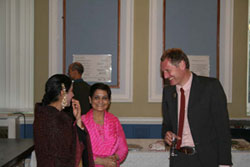 Eighteen of the project's bilingual poems were exhibited at the launch, many of them by poets from south Asia. The posters were enlarged to A2 size especially for the event and remained on display for the following week.Over 100 people attended. Jules Mann, the Director of the Poetry Society, was one. A previous Director, Chris Meade, was also present. Chris helped obtain funding for the pilot phase of Poems for… over ten years ago.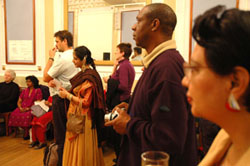 Three poems were then read out. Vidya Misra read her poem "Black Tears" in Hindi, Rogan Wolf following with the English version. Amarjit Chandan read his Punjabi poem "The Peacock in Walpole Park, Ealing" Stephen Watts reading the English version. Finally, Andrew Motion read his own poem "While I wait for You." This was originally commissioned by the poet David Hart as part of the first of the "Poems for…" collections – "Poems for…Waiting."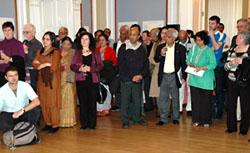 Andrew Motion inaugurated the poster exhibition and a presentation of the new site with a short ceremony, traditional at the Nehru Centre, which involves the lighting of candles at a small altar. In his speech he expressed admiration for "Poems for…" above all for its primary vision that good poetry belongs in the everyday and the everywhere, and can offer warm and vital connection across ethnic and cultural difference.
Pictures by Joseph Wolf and Noel Bailleux